Nationwide, the average cost of installing outdoor lighting is $4,000, with prices ranging from $2,000-$6,000. High-end installations typically include the designer, motion and solar-power lights, according to HomeAdvisor.
Average Outdoor Lighting Installation Cost
Outdoor lighting allows homeowners to improve home security and add style to the home's exterior at the same time. It's very important for many homeowners to have a well-defined outdoor area, such as a patio or deck, to serve as a natural gathering place for residents and visitors alike.
Here is a look at the average costs of outdoor lighting installation:
Lowest Cost: $2,000.
Average Cost: $4,000.
Highest Cost: $6,000.

Outdoor Lighting Cost Factors
There are numerous factors that can cause the price of installation to either increase or decrease. Take a look at some of the most common cost factors outlined below.
Type Of Lights And Fixtures
This is the biggest cost factor in the entire process. Some simple pathway lighting installations can cost as little as $50 per light, with big projects like pool and gazebo lighting costing $500 or more.
Wiring
The amount of wiring needed can be determined by how far the lights will be from your home. Installing new electrical wiring can cost anywhere between $3-$5 per linear foot.
Digging And Trenching
Any outdoor lighting installation will call for digging trenches to run electrical cables through. This process will cost $4-$12 per linear foot. Burying these wires provides a better finish, plus it is much safer in the long run. This also ensures the wiring will last longer since it won't be exposed to any inclement weather conditions.
Landscaping
Retrofitting outdoor lights in an existing mature landscape provides a few tactical obstacles. Contractors may have to go around plants, bushes and other landscaping features for the installation. With the tougher task comes a higher price tag overall.
Solar Vs Hardwired Lights
These lighting options are similar in cost per unit. However, installation and running costs will vary. Solar lights require no wires and will not consume any household electricity. Solar lights are certainly the more cost-effective option when compared to hardwired lights.
Outdoor Lighting Costs By Bulb Type
The type of bulb used will not impact the cost of the installation, but the cost of replacement bulbs will be altered. The running cost is also substantially different. For instance, metal halide bulbs cost three times the price of LED bulbs of the same lumen output.
These are the typical prices per bulb:
LED: $0.70-$8.00.
CFL: $12-$40.
Halogen: $2-$5.
HID: $10-$35.
Incandescent: $0.50-$5.00.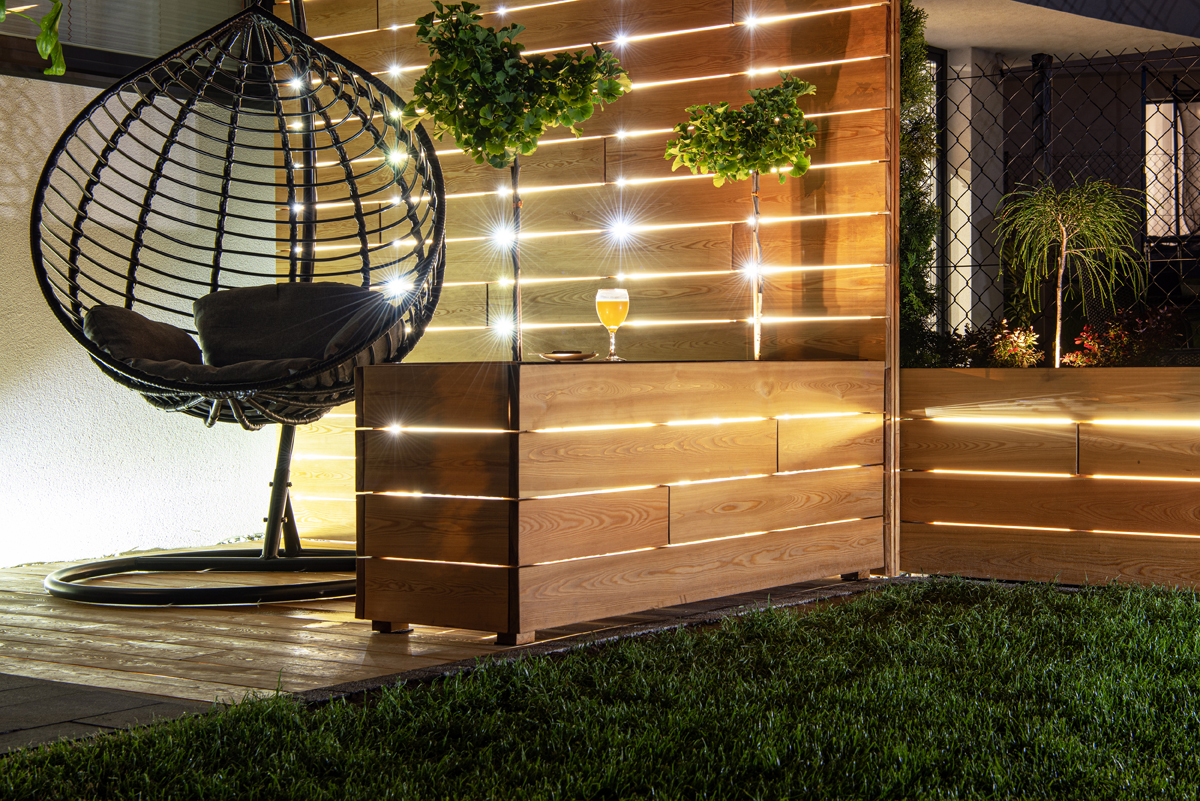 Outdoor Lighting Costs By Fixture Type
There are several different landscape lighting fixture types, all with different installation costs. Let's take a look at some of these fixtures below.
Floodlights
Homeowners can expect to pay $160 to have floodlights installed. Some of these lights will cost as little as $40 all the way to a high of $400. This price usually includes pole installation, but if it's not included in the estimate, then you can expect to pay between $100-$200.
Pathway Lights
Pathway lighting costs an average of $100, with prices ranging from $50-$150 per fixture. These soft lights can provide a much-desired gentle glow to guide you along the pathway.
Porch Lights
The professionals typically charge $160 to install porch lights with averages between $65-$250 per fixture. The installation of porch lights is quick and easy, making up just a fraction of the total cost.
Low-Voltage Landscape Lights
Low-voltage lights cost between $90-$150, with an average of $120 per fixture. These lights use less voltage than the standard household 120-volt supply, reducing the burden on your home's supply and running costs.
Downlights
Prices for downlights will vary between $100-$400, with an average cost of $250 per fixture. Downlights mimic moonlight, so they are mounted high above the yard to provide a moon-like illumination.
Uplights
Uplights will cost between $100-$400, with an average of $250. These lights can be installed at the base of a wall, a retaining wall or other landscape features. Uplights are commonly used to enhance the home's appearance.
Outdoor Security Lights
Exterior security light installation costs $425, with prices ranging from $350-$500. These lights are utilized to deter any potential intruders.
Lamp Posts
Lamp posts can cost anywhere between $400-$1,000 to install. The average price of installation is $700 nationwide. Lamp posts feature high installation costs because they are typically installed far away from the home.
Here is a condensed list of average lighting costs by fixture type:
Pathway Lights: $50-$100.
Low Voltage Landscape Lights: $90-$150.
Porch Lights: $65-$250.
Floodlights: $75-$250.
Downlights: $100-$400.
Uplights: $100-$400.
Outdoor Security Lights: $350-$500.
Lamp Posts: $400-$1,000.
The cost of replacing any outdoor lighting will range from $65-$175. Prices depend on both provider and location. Other factors that can alter the cost of a replacement are features of the wiring and fixture itself.
Should I Hire An Electrician For Outdoor Lighting Installation?
Generally, an easy task like replacing a bulb shouldn't require professional services, yet even smaller tasks like this do involve replacing and rerouting electrical cables. Building codes often require an electrician for these tasks, so make sure to contact a local company.
SHIELD'S ELECTRIC IN TEMPE, ARIZONA
Family owned and operated since 1957, Shields Electric, Inc. is one of Arizona's most experienced electrical contractors. Our commercial, residential and institutional clients benefit from our decades of experience in a wide range of market segments and project types throughout the state of Arizona. Contact us today for a free quote!