Hourly rates for an electrician will depend heavily on the specific project and the electrician's experience level. With that being said, homeowners should expect to pay an average of $70 per hour for services.
How Much Does An Electrician Cost Per Hour?
According to HomeGuide, the average electrician charges $70 per hour. Costs will range from $40-$100 per hour nationwide. You can expect to pay an average of $75 for a call-out fee. As stated above, these are merely average costs from across the U.S. in 2022. Exact costs will depend on the company you choose for your electrical needs.
Any electrician's hourly rate will be determined by experience, amount of education and overall size of the business. A larger business has more overhead than a smaller shop, so they will likely charge more. Do not confuse the electrician's hourly rate with their hourly pay rate.
An hourly billed rate will include:
Supervisor expense.
Payroll taxes/insurance
Setup and cleanup.
Building rent.
Vehicle maintenance.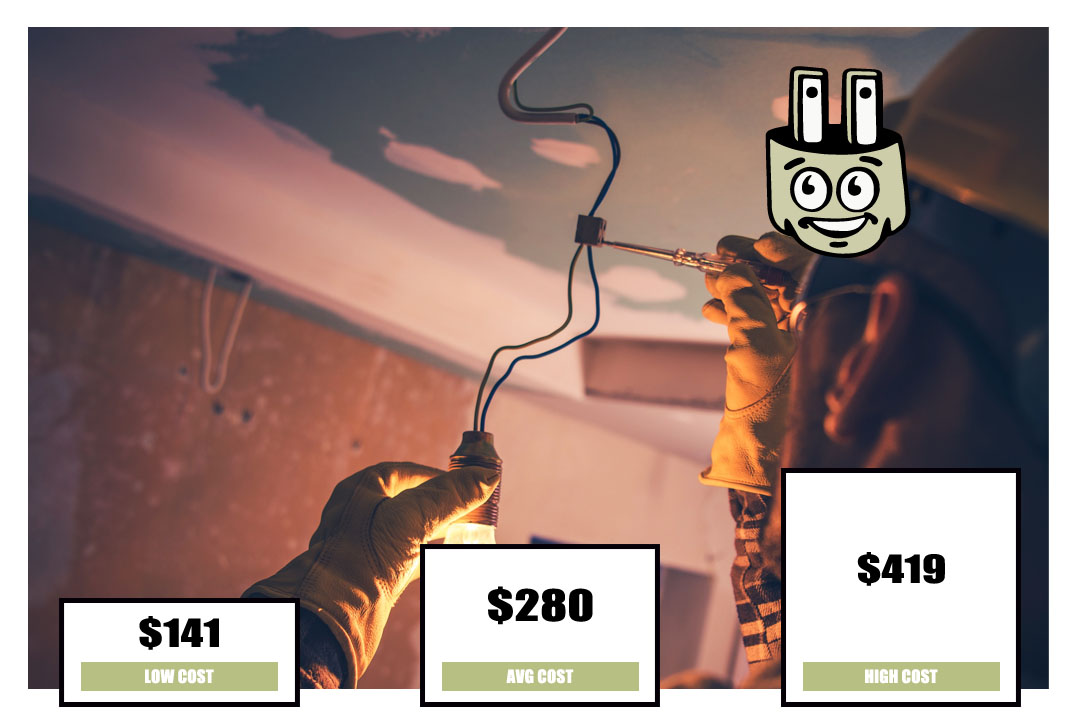 Of course, the electrician's rate per hour is not the end of your bill. There will be additional charges for parts and supplies. There is a possibility that you may have to pay for transportation or if any additional workers are needed for the job.
Rates Based On Electrician's Experience Level
Requirements for the different levels of an electrician vary by state, but typically they are classified by three levels:
Apprentice Electrician: Apprentices are learning to be an electrician, meaning they are not fully licensed yet. An apprenticeship takes nearly four years to complete and the apprentice will not work on their own. Apprentices can do basic work, such as installing light fixtures, replacing outlets and assisting a master electrician with wiring projects.
Journeyman Electrician: These electricians have completed four-year apprenticeships and passed the electric journeyman exam. They can work on projects of all levels without any supervision.
Master Electrician: Master electricians have worked as a journeyman for at least two years, as well as passed the master electrician exam. At this level, electricians are free to open their own business and manage both apprentices and journeyman.
Here is a look at typical hourly rates for all levels:
Apprentice Electrician: $40-$50.
Journeyman Electrician: $50-$70.
Master Electrician: $100-$120.
Average Cost Of Hiring An Electrician
We know the average hourly rates, but what about the typical costs for an entire job? Small electrical projects cost between $141-$419, coming out to an average of $280 per job.
Extensive projects like rewiring a home or replacing an electrical panel can cost a lot more. These jobs range in cost from $2,000-$6,000+. The overall price of the work depends on the requested job. Some projects may be billed at an hourly rate, with others attached to a flat fee. Projects charged at a flat fee can often save you money since you will pay the quoted amount regardless of how long the job takes.
Here are the average costs associated with hiring an electrician:
Lowest Cost: $141.
Average Cost: $280.
Highest Cost: $419.

Electrician Job Costs
Below is a list of the typical price tag associated with the specific task:
Installing door bell, smoke or carbon monoxide detector: $90-$150.
Installing light fixtures: $113-$414.
Installing recessed light exposure: $125-$150.
Installing outlet: $120-$150.
Replacing light switch: $150-$250.
Installing ceiling fan: $150-$350.
Replacing a circuit breaker switch: $150-$200.
Installing attic fan: $300-$900.
Installing bathroom fan: $150-$550.
Smart home automation system: $600-$1,800.
Installing electric car charging station: $750-$2,600.
Hot tub wiring: $800-$1,500.
Upgrading electrical panel:$1,100-$2,500.
Wiring a house: $1,600-$11,400.
Installing home generator: $3,000-$5,000.
Installing hardwired home automation system: $4,000-$12,000.
Electrician Labor Cost Factors
The first factor affecting cost is location. Areas like Los Angeles and New York have a higher cost of living and working. Alaska is the state with the highest labor costs. New Mexico and Nebraska are tied for the lowest labor costs in the nation. Taxes and other local fees can impact the overall cost, as well.
Any urgent or emergency repairs will drive up the price tag. These repairs can cost 1.5 times the normal hourly rate. Emergency repairs can include anything from rewiring to restoring a home's power after it has gone out.
SHIELD'S ELECTRIC IN TEMPE, ARIZONA
Family owned and operated since 1957, Shields Electric, Inc. is one of Arizona's most experienced electrical contractors. Our commercial, residential and institutional clients benefit from our decades of experience in a wide range of market segments and project types throughout the state of Arizona. Contact us today for a free quote!